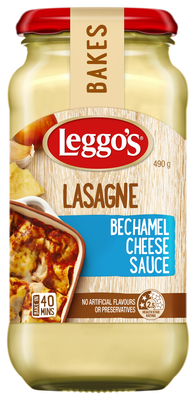 Leggo's Lasagne Bechamel Cheese Sauce 490g
A creamy and cheesy traditional bechamel cheese sauce with light nutmeg spice flavour.
Ingredients
Nutritional Information
Water, cream (milk), thickeners (1442, xanthan gum), cheese powder (2.5%) (contains milk), sugar, salt, onion powder, garlic powder, food acid (lactic), egg yolk, spices, colour (carotene).
Contains milk and egg.
Bake in 40 Minutes
Heath Star Rating 2.5
Suitable for Vegetarians
Whilst all care has been taken to ensure the information is
correct, please refer to the product label for further information.
Cooking Hints and Tips
Perfect for tuna mornay or cauliflower gratin (cheese sauce).