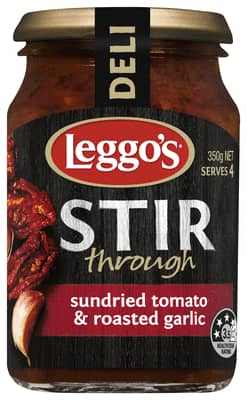 Leggo's Sundried Tomato & Roasted Garlic Stir Through Sauce 350g
Pasta Sauce And Bakes
Stir Through Sauces
The authentic flavours of sundried tomatoes and roasted garlic are blended with olive oil to create this intensely flavoured sauce. Simply stir contents of jar through pasta and serve or use as a flavour enhancer for other sauces or soups.
Ingredients
Nutritional Information
Tomato puree (55%) (from paste), diced tomatoes (25%), sundried tomatoes (4.5%), canola oil, olive oil, roasted garlic (2%), salt, garlic, yeast extract, sugar, parsley, lemon juice concentrate, natural colour (paprika oleoresins).
Halal Certified
No Artificial Colours Flavors or Preservatives
Heath Star Rating 3.5
Whilst all care has been taken to ensure the information is
correct, please refer to the product label for further information.
Cooking Hints and Tips
Try spreading over a pizza base and top with your favourite gourmet toppings.