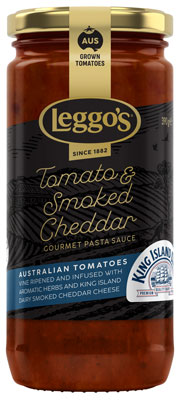 Leggo's Tomato & Smoked Cheddar Gourmet Pasta Sauce 390g
Pasta Sauce And Bakes
Pasta Sauce
Gourmet vine ripened Australian tomatoes infused with aromatic herbs and King Island Dairy smoked cheddar cheese.
Ingredients
Nutritional Information
Tomatoes (82%) (crushed, diced, puree from paste), canola oil, caramelised onion (onion, canola oil, sugar), smoked cheddar cheese (2.5%) [(contains milk, preservative (200]], thickener (1442), salt, herbs (0.06%) (bayleaf, parsley). food acid (lactic) white pepper.
Contains milk.
May be present : almond, cashew, soy.
Whilst all care has been taken to ensure the information is
correct, please refer to the product label for further information.