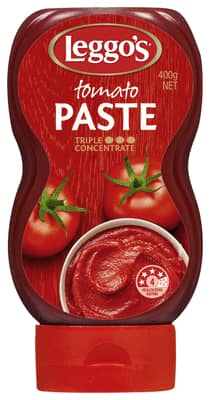 Leggo's Squeezy Tomato Paste 400g
Tomato Paste
Tomato Paste Squeeze
Tomatoes are at the heart of what we do. Since 1882, we've been passionate about enriching Australian recipes with the highest quality tomato flavour that every meal deserves.
Ingredients
Nutritional Information
Concentrated tomato (98%), salt, antioxidant (ascorbic acid), preservatives (202, 234).
Halal Certified
No Artificial Colours or Flavors
Heath Star Rating 4
Triple Concentrate
Whilst all care has been taken to ensure the information is
correct, please refer to the product label for further information.
Cooking Hints and Tips
Add a squeeze of Leggo's Tomato Paste to hamburgers, rissoles and meatloaf.