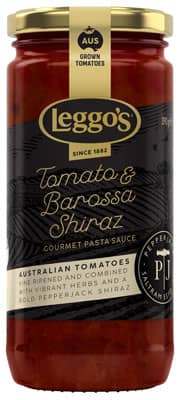 Leggo's Tomato & Barossa Shiraz Gourmet Pasta Sauce 390g
Pasta Sauce And Bakes
Pasta Sauce
Gourmet vine ripened Australian tomatoes combined with vibrant herbs and a bold Pepperjack Shiraz.
Ingredients
Nutritional Information
Tomatoes (79%) (crushed, diced, puree from paste), canola oil, caramelised onion (onion, canola oil, sugar), Red Wine (5%) (Australian Shiraz Red Wine) (contains egg, milk, preservatives (220, 223)), thickener (1442), salt, herbs (0.06%) (bay leaf, parsley), food acid (lactic), white pepper.
Contains egg, milk.
May be present : almond, cashew, soy.
Whilst all care has been taken to ensure the information is
correct, please refer to the product label for further information.