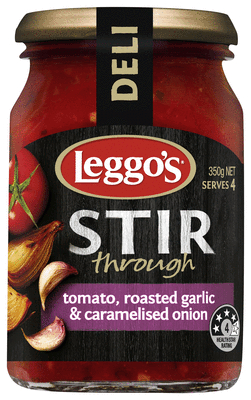 Leggo's Tomato Roasted Garlic & Caramelised Onion Stir Through Sauce 350g
Pasta Sauce And Bakes
Stir Through Sauces
With tomato, roasted garlic and caramelised onion this intensely flavoured stir through sauce is perfect as a flavour enhancer or simply stir through your pasta and serve.
Ingredients
Nutritional Information
Diced tomatoes (47%), tomato puree (36%) (from paste), caramelised onion (9%) (onion, canola oil, sugar), canola oil, olive oil, salt, yeast extract, roasted garlic (0.4%), garlic, herbs, lemon juice concentrate.
Halal Certified
No Artificial Colours Flavors or Preservatives
Heath Star Rating 4
Whilst all care has been taken to ensure the information is
correct, please refer to the product label for further information.
Cooking Hints and Tips
Try spreading over a pizza base and top with roasted pumpkin, goat cheese and rocket leaves.