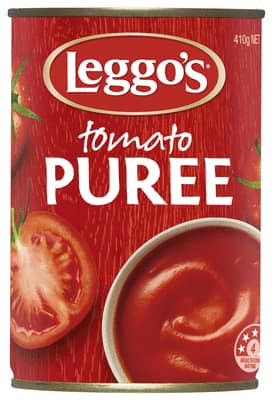 Leggo's Tomato Puree 410g
Pesto, Puree & Passata
Puree
Leggo's source plump ripe tomatoes, peel and seed them and then concentrate them into a smooth tomato puree. So it's easy to enjoy tomato flavour all year round.
Ingredients
Nutritional Information
Tomatoes (55%) (reconstituted, paste), tomato paste (44%), salt.
Heath Star Rating 4
No Artificial Colours or Flavors
No Added Preservatives
Suitable for Vegetarians and Vegans
Whilst all care has been taken to ensure the information is
correct, please refer to the product label for further information.
Cooking Hints and Tips
Ideal for use in: lasagne, bolognese sauce, minestrone soup, pasta, cannelloni, parmigiana or casseroles.